Filane reflects on Ali's life, chance meeting
By Gary Moskalyk, Special to the CJ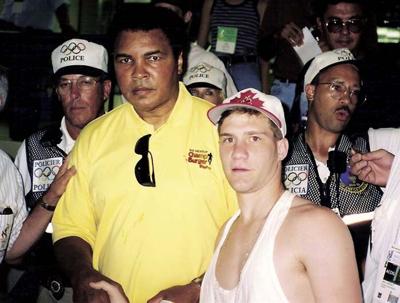 Even when Domenic Filane was a nine-year-old watching Muhammad Ali and Leon Spinks duke it out for the heavyweight boxing championship, he found himself in awe.
The spectacle. The action. Most importantly, there was Ali.
The Champ.
"That's when I really got the bug for boxing," Filane recalled. "When he lost that fight, I was thinking, 'That can't be happening.'"
Like many Ali fans across the world, the last two days have been spent cheering for his improved health to mourning his death late Friday to now reflecting on the life and times of one of most famous people on the planet.
"It's a sad day in boxing, for sure. The world has lost an iconic ambassador," Filane said from his home in Schreiber on Saturday. "Seeing the amazing support and genuine affection by everybody touched by him has really been something."
Filane's initial love for boxing fueled an impressive amateur career. He went on to become a two-time Canadian Olympic boxer (1992 and 1996) and two-time Commonwealth Games bronze medal winner. His ties to the boxing community still run strong, and he currently trains fighters out of Schreiber. He spent Saturday talking with friends about Ali's impact.
"It didn't matter, win lose or draw. He was the champ," Filane, 47, said of the man formerly known as Cassius Clay. "He revolutionized the sport of boxing. Guys are trying to emulate him now but it's not happening."
If you're connected to Filane via social media or have visited his house or Hollywood Filane's gym in Schreiber, you have seen shots or pieces of his memorabilia collection. Many of them revolve around Muhammad Ali.
"It's all over. Even in my house. My wife doesn't like it too much," Filane said with a laugh. "There's Ali pictures, Ali statues, mini figurines that talk to you when you walk by. Whatever there is, I try to collect it."
But the item Filane calls his "one true treasure," is a photo he and Ali posed for during the 1996 Summer Olympic Games in Atlanta — a photo snapped by Ali's longtime trainer and friend Angelo Dundee.
"For my fight in Atlanta, (Ali) sat with my father (Cosimo). They had the same seating area. Later, when Ali was coming through the (Olympic) village cafeteria, we were just in awe that Ali was in the same building as us," Filane said.
"(Dundee) went over to me and said, "Hey Dom, how's it going?' He remembered my name — I was sort of startled. 'You know the champ? You want to get a picture with him?' And now all I'm thinking is, 'Oh my god, this can't be happening.' And it actually turned out. I had spent two weeks in Atlanta saying, 'I'm hoping that (photo) turned out."
The meeting itself was over in seconds, but it's still vivid in Filane's mind. "At that time, he still didn't really talk too much," he said. "Just his gestures with his hands and with his eyes. It was like you were having a conversation with him. It wasn't anything awkward.
"It was amazing to see that," Filane added. "It's the one and only time I met him and it's etched in my mind."
Earlier in those Games, Filane attended the opening ceremonies when Ali lit the Olympic torch.
"I'm lined up to get the best possible shot. The final torchbearers are coming through," Filane recalled. "Evander Holyfield was carrying it and I got a great picture. He was an ambassador of our sport. Us boxers were pretty excited for our sport. But then the final (leg of the torch) was to Muhammad and I don't think there was a dry eye in that stadium."