Hollywood Filane Sportswear & Embroidery is a sports and promotional wear company catering to teams, businesses, schools and clubs with quality apparel ,embroidery, and digital wide format printing.
Whether you're looking for Sportswear for your team to intimidate your competition or promotional wear to leave a lasting impression with your clients, Hollywood Filane has what you need. We carry a full line of apparel such as caps, jackets, sweaters, t-shirts, tracksuits and much more. All of our apparel is ready to embroider your corporate or team logo. We can also take care of all your digital printing needs from Signs, stickers and decals and banners.

The Beginning:

Hollywood Filane Sportswear & Embroidery came to be when Domenic Filane was attending Seneca College studying business marketing, and boxing on the Canadian National Olympic Team. When he tried to purchase personalized tracksuits for himself and three other teammates, he found out that no one would make just four tracksuits at a reasonable price. Flying to Italy for competition, Domenic saw a man wearing a jacket advertising an embroidery company. On the trip home, the same man was on the return flight, and this time, Domenic talked to him - and Domenic found out that embroidery was something he might like to do. The man, Ralph, invited Domenic to come by his business in Toronto and see how things worked. When Domenic got home to Toronto, he took Ralph up on his offer - and from there, Hollywood Filane Sportswear was created.
The Name:
Domenic's father, Cosimo, is a singer and entertainer, as well as a business owner. When Domenic first began his boxing career in his home town of Schreiber, his coach nicknamed him 'Hollywood' because his father was in the entertainment industry. Although Figliomeni is the true family name, Cosimo adopted 'Filane' (Fi - from Figliomeni, Lane - from one of his favorite singers, Frankie Lane) as a stage name. Domenic chose to use Filane as his boxing name, and thus became Domenic 'Hollywood' Filane in the Boxing World. When Domenic started his business, it made sense to continue his boxing identity, and Hollywood Filane Sportswear was born.
The Concept:
Frustrated at the inability to easily create a custom look, Domenic vowed that he would create a business that had no minimum order, where everybody was a somebody. Whether you were a corporation looking to mass produce logo'd apparel, or an aspiring boxer wanting to put your fighting name on your tracksuit, he would serve everyone with little hassle and fair price.
The Reality:

Upon it's inception in 1992, Hollywood Filane Sportswear has been like the little engine that could, and it has developed into a respectable, reliable business that proudly offers custom embroidered apparel where your satisfaction is our main goal. The business has developed as a sports and promotional wear company to also offer screen printing, tackle twill, applique and decals. We look forward to working with you to create the most professional, unique or personalized look that we can.
The Location: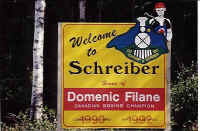 Domenic grew up on the shores of Lake Superior, in the small town of Schreiber, where his family runs a number of companies, including the successful, Filane's Canadian Spring Water company offering quality bottled water across Ontario. Despite training during his 10 year Amateur Boxing Career in Toronto and traveling the world on competitions, Domenic wanted to return home to develop his business. Although Hollywood Filane Sportswear is located in Northern Ontario, technology enables us to be a successful, competitive business eager to build long term relationships with you, the customer and most important person we know.
The Result:
Domenic was the 11 time Canadian light flyweight (48 kg) Boxing Champion, and two time Olympian, whose amateur career spanned from 1990 to 2000. As well as managing Hollywood Filane Sportswear, Domenic has also opened Filane's Boxing Gym in the same building that houses his business. Here, he trains local, future champions in the sport that gave him so much, as well as offering 'Boxercise' for both children and adults interested in staying in shape using boxing methods. In the hallway leading from the Sportswear and Apparel business to the boxing gym, Domenic has created a 'Wall of Fame' where he proudly displays a selection of his favorite photographs taken during his boxing career.